After living in your home for a time or during a move-in, kitchen cabinets can seem drab, worn, or beyond saving. In this case, usually it means you need new cabinets in Bucks County, PA, Montgomery County, PA, or even Burlington County, NJ. You may sit on the idea for a while, toiling over your kitchen that is just not up to par. But instead of pining over it, it is time to consider making a change.
Changing your kitchen does not always have to mean a complete tear out or renovation; sometimes it can mean just changing the surface appearance. Much like exchanging old, achy appliances for a new, innovative version, kitchen cabinet refacing is much the same. We take out your dirty old cabinet faces and replace them with a selection of new, hardy cabinet faces, all while working with you through the design process. With a selection of colors, door handles, and hardware, you won't need to look elsewhere in Northeast Philadelphia.
Along with that, at Capital Kitchen in Levittown, PA, we can also design and build you your own custom cabinets. Having all these options available can be extremely helpful to families who are looking for a variety, while also trying to save on their budget in Newtown, PA.
Cabinet Refacing in Yardley, PA not only saves you money, but is also a much faster method of giving your kitchen a fresh new start. Slam those drawers no more!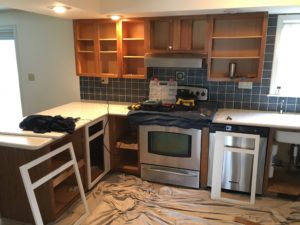 Refacing your cabinets:
Saves you money
Gives you options with aesthetics
Can create a theme for your kitchen
Allows your cabinets to match your countertop or floor
Stops your cabinets or drawers from slamming all the time
Improves your home's value
Allows your cabinets to be adjusted for more storage space
Our partner, Conestoga Wood Specialties, offers a wide-variety of cabinet choices, focusing on: alternative surfaces; species of wood; paint, stains, and glazes; as well as different finish options. Since your cabinets are the focal point of your kitchen, it is exciting and very important to think about what kind of kitchen style you want your home to encompass, such as traditional, transitional, or modern. Refacing your cabinets in Levittown, PA allows for you to choose your own custom appearance for your kitchen with complete control, down to the very handles (or no handles) on your cabinet doors.
Capital Kitchen's Process
After all of your design choices are made, we will then take final measurements and begin the work on your cabinets.
Installation begins, with the removal of old doors, drawers, and molding.
New, custom made ¾-inch solid wood face frames are installed over your existing cabinets fronts.
Exposed sides and bottoms are covered with ¼-inch plywood to match the fronts, and molding is applied to the tops of your cabinets.
New soft-close drawer slides and dovetail drawers are installed in the base cabinets.
New solid wood doors and drawer fronts are hung with new hardware.
After the job is finished, we will also make sure all the trash is hauled away.
If you are interested in refacing your kitchen cabinets and giving the old room a spark or making a new kitchen yours, be sure to contact us in Yardley, PA for a free estimate!
Kitchen Resurfacing
Along with cabinet refacing, we are also skilled at resurfacing as well. With a combination of different skills, our cabinet experts are more than willing to work with you to give you exactly what you need and want for your kitchen in Newtown, PA. Since we are more versatile than most, you have the option of personalizing your kitchen even further.
Resurfacing will allow you to modify your existing cabinets, wherein we can remove an old cabinet and replace it with a new one for a better fit. A good example of this is with new refrigerators, which are usually taller than older ones. Instead of trying to find a fridge that will fit under your cabinets, with us, you can easily adjust the size and replace those cabinets with new ones so everything fits perfectly.
Another example is where we remove soffits and install new, taller wall cabinets that run up to the ceiling. We then reface the base cabinets to match the wall cabinets, saving you money on your budget in Northeast Philadelphia. We are also able to reface frameless (European) cabinets!
No matter what your concern is, we can tackle it. Capital Kitchen in Bucks County, PA, Montgomery County, PA, and Burlington County, NJ areas will take care of you and spruce up your kitchen. Be sure to call us at: 267-390-4823 to get your free estimate today!